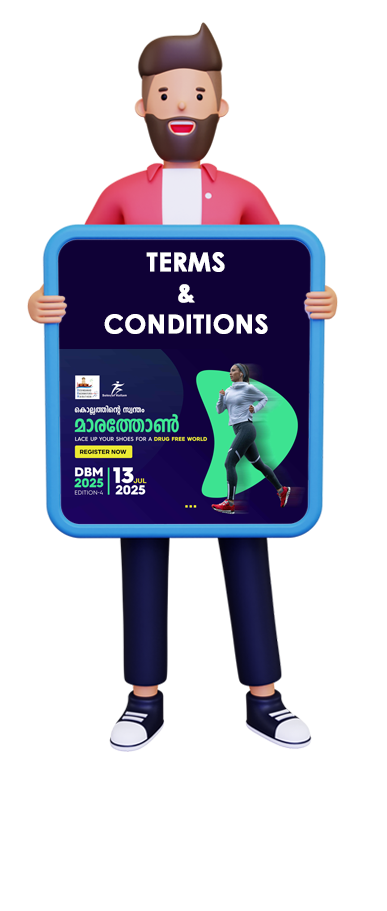 Terms and Conditions
General Rules

• Use only the application modes suggested on this website to submit your entries.
• Please thoroughly go through all relevant information given on the event website and application form prior to submitting your application.
• Requests for participation cancellation, and thereby refund, will not be entertained.



Entries

• Only individual entries for Half Marathon, 10 KM and 5 KM Fun Run categories shall be accepted.
• Half Marathon and 10 KM run applicants must be above the age of 16and 14 respectively. Supporting government issued age proof must be carried when collecting the bibs for the event.
• In case of 5K walk-run, any minor participant must be accompanied by an adult.


Application Status

• On application being successfully submitted, registrants will receive an email and SMS confirming their application with a unique code.
• Soon after the entries close, runners will receive an email and SMS with their BIB Nos.and other details.
• Those wishing to confirm their application status in the interim can send us an email to support@dbmkollam.com


Medical Treatment


• By registering for the Desinganad Backwaters Marathon(DBM), the participant agrees that in the event of any injury or being taken ill or otherwise suffering any detriment whatsoever, the participant irrevocably authorizes the event officials and organizers to, at participant's risk and cost, be transported to a medical facility and/or to administer emergency medical treatment. The participant waives all claims that might result from such transport and/or treatment or delay or deficiency therein. The participant shall pay or reimburse Soles of Kollam Runners Clubany medical and emergency expenses incurred on the participant's behalf.


Race Regulations

• You are to participate only in the race category for which you had applied and for which your entry has been confirmed. Your entry and running number bib and/or bib tag is not transferable to any other person under any circumstance.
• Runners found to have interchanged their running number bib and/or bib tag with another individual, will be disqualified from the Event.
• Desinganad Backwaters Marathon(DBM) reserves the right to disqualify or exclude any person from the event/competition who gives incorrect personal data/details on the entry form, who has been banned from competition under IAAF jurisdiction, or who is suspected of having taken banned substances. No refund of entry fee will be made.
• No result or certificate will be given to runners who do not start their run at the respective start times of the race categories they have been confirmed in.
• Any participant who has tampered with the bib tag in any way or remove/exchange it with another runner, won't be able to get an official finish time and thereby the official timing certificate recording the finish time. The participant will therefore, not be eligible for any cash prize.
• Participants are not allowed to bring any vehicles of any nature. Anyone bringing any vehicle will be disqualified from the race and asked to leave the course.
• Participants are not allowed to run with pets, unregistered runners or babies/children who are under aged for the designated category.
• Participants will not be allowed to enter the event venue with gas balloons.
• In order to ensure the re-opening of roads by 10.00 a.m. (Or as decided by the event organisers), the organizers will designate cut off times at specified locations. Runners failing to reach these specific locations within times specified risk being lifted off the road onto vehicles by the race officials.
• Only those confirmed participants wearing the current year's running number bibs will be allowed on the route. Any person found wearing the incorrect bib or no bib will be disqualified and removed by security.
• Further, every runner must wear his/her running number bib on the front of the vest. Any mutilation, fold, alteration or damage to the bib will amount to disqualification of the runner from the Event.
• Organizers reserve the right to stop any participant from participating who is found medically unfit to continue in the opinion of the medical personnel.
• Baggage counters are available only for participants. For security reasons, participants are requested to come, as far as possible, without any baggage. It is strongly recommended that you do not leave valuables like mobile phone, camera, jewellery, watch, electronic gadgets, etc. in the bag stored. Organizers are not responsible for any loss or baggage and belongings.
• Participants are requested to cooperate with the police and security personnel deputed at the event venues and on route. Participants/supporters are liable to random checking on race day this is for your own security.
• Photographs of runners taken during the event organised prior to and on race day can be used for the purpose of promoting current and future events.


Running Number Bib Collection

• All confirmed participants are required to come to Expo, scheduled on Saturday (08 July 2023) immediately before the event and collect their running number bibs. No running number will be posted to an individual's mailing address nor distributed on race day.
• It is mandatory for the participant to collect his/her running number bib personally from the Expo. In case of unavoidable circumstances, such runner can send his/her authorised representative to collect running number bib on his/her behalf. Authorised representative must carry with him/her: -A government issued Photo-identity proof of the representative and the confirmed participant.